Extreme Sports Approved
Water, snow, sleet, and mud. FUGOO Sport 2.0 is more than the best waterproof Bluetooth speaker. Tested in extreme conditions, IP67 rated and ready for any adventure you've got.
Down to Play Dirty
FUGOO Sport 2.0 is built to take a beating. Get it dirty? Just rinse 'er down with a hose or wash it off in the pool. The durability and versatility make this Bluetooth speaker the perfect companion for all occasions.
SPORT 2.0 Portable Waterproof Outdoor Bluetooth® speaker
$89.99
Lightweight & Loud as Hell
SPORT 2.0 Portable Waterproof Outdoor Bluetooth® speaker Technical Specs
Audio Quality
Speaker Output 20 Watts
Speaker Drivers (x2) 1.75"
THD + Noise <10%
Signal-to-Noise Ratio >70dB
Connectivity
Bluetooth 5.0 for wireless connectivity up to 33 feet
3.5mm stereo input for wired connection
Profiles Supported: Audio/Video Remote Control Profile (AVRCP 1.4); Advanced Audio Distribution Profile (A2DP) 1.3; Hands-Free Profile (HFP) 1.6; Headset Profile (HSP) 1.2
Microphone
Built-in microphone with echo cancellation
Wind & background noise reduction w/ Digital Signal Processor
Full-duplex speakerphone for uninterrupted conversations
Power
Up to 10 hours continuous play at 50% loudness
Lithium-ion rechargeable battery
Charge via included micro-USB or international AC Adapter
~ 3.5 hours to fully recharge
Battery life displayed on supported devices
Size & Weight
6.5 L x 2.25" W x 2.5" H
11.2 oz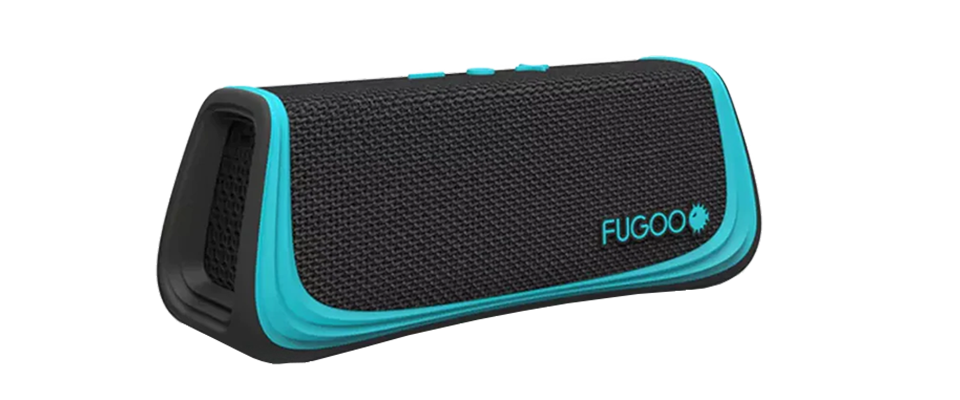 Frequently Asked Questions
FUGOO Sport 2.0 battery will last up to 10 hours on a full charge playing at ~50% volume.
Yes. FUGOO Sport 2.0 is compatible with both iOS and Android devices. FUGOO Sport utilizes Bluetooth 5.0 technology to deliver clean, crisp, wireless audio connectivity up to 33 feet.
FUGOO Sport 2.0 pumps out 105db at 1.5' and is able to pair with another FUGOO 2.0 Bluetooth speaker for increased loudness and room filling sound. To put it into perspective, 105db is louder than most car horns, sirens, and fireworks.