The Finest Occasion
Equally at home in your living room or nestled in at the beach, FUGOO Style 2.0 was created for all occasions and designed to weather sand of the finest grain.
Portable and 100% Waterproof
FUGOO Style 2.0 has a small footprint and makes a big splash. IP67 rating means you can take your wireless speaker to the pool as well as in it.
STYLE 2.0 Indoor/Outdoor Waterproof Bluetooth® speaker
$79.99
Lightweight & Loud as Hell
STYLE 2.0 Indoor/Outdoor Waterproof Bluetooth® speaker Technical Specs
Audio Quality
Five (5) proprietary, custom-designed acoustic drivers
Drivers set at an 8-degree upward tilt for better sound dispersion
Sound Pressure Level (SPL-A): 105db loudness at 1.5'
Full Range Frequency Response: 60Hz - 20KHz
Connectivity
Bluetooth 5.0 for wireless connectivity up to 33 feet
3.5mm stereo input for wired connection
Profiles Supported: Audio/Video Remote Control Profile (AVRCP 1.4); Advanced Audio Distribution Profile (A2DP) 1.3; Hands-Free Profile (HFP) 1.6; Headset Profile (HSP) 1.2
Microphone
Built-in microphone with echo cancellation
Wind & background noise reduction w/ Digital Signal Processor
Full-duplex speakerphone for uninterrupted conversations
Power
Up to 10 hours continuous play at 50% loudness
Lithium-ion rechargeable battery
Charge via included micro-USB or international AC Adapter
~ 3.5 hours to fully recharge
Battery life displayed on supported devices
Size & Weight
6.5 L x 2.25" W x 2.5" T
11.2oz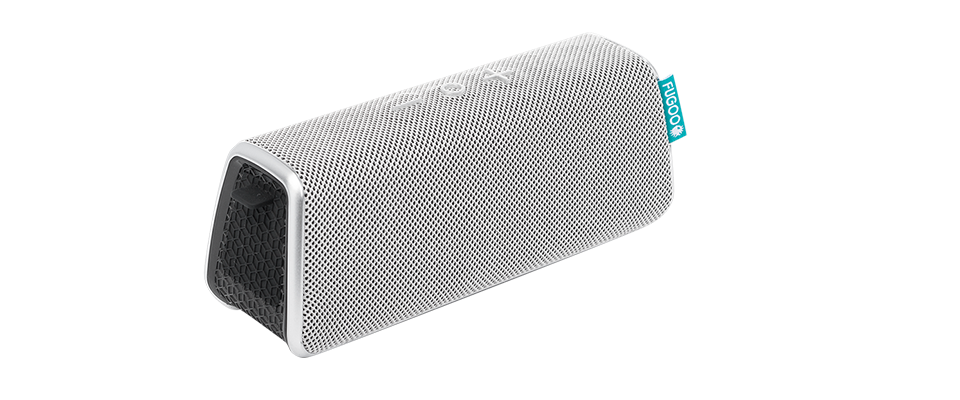 Frequently Asked Questions
Yes. And Yes. FUGOO Style 2.0 can be used as a speaker phone with both audio output and microphone input. You can also use FUGOO Style 2.0 as a portable speaker and microphone for Zoom calls, Google Classrooms, and even streaming movies from a laptop or any Bluetooth enabled output device.
You know it! All of our portable 2.0 Bluetooth speakers can pair with another 2.0 speaker. To pair two speakers, simply pair your phone or Bluetooth audio source to the first FUGOO 2.0, then turn on your second and hold down the Bluetooth action button to enter pairing mode. Once in pairing mode on the second speaker, double click the Bluetooth action button on the first speaker with the two speakers in close proximity. When successful, you'll hear a voice command of "Pairing Successful" and hear audio from both speakers.